AFFORDABLE

PRICES

FRIENDLY

& TIDY

WORK

GUARANTEED

LATEST

TECHNOLOGY

DOES YOUR STEVENAGE WOODEN FLOORING LOOK A BIT DERELICT?
When you lift the corner of the carpet do you see a bad copy of a Jackson Pollock painting, made from splashed paint, squashed insects and ground-in dirt? It's high time you called in the SG1 Stevenage floor sanding and finishing experts to rescue that hidden gem of a wooden floor from oblivion!
The Stevenage floor sanding team have been repairing, sanding and finishing wooden floors across the region for 20 years. We provide the homes and businesses of Stevenage with a friendly, professional and affordable package of services for bringing their natural flooring back to life. Using dust-free equipment, we'll strip away the top layers of grime to reveal the beautiful clean wood that's trapped underneath. All that's then needed to get it looking picture-perfect is the right sort of eco-friendly finish. We do the work with minimal mess and fuss, so that your household or business will barely notice we've been in – apart from that gorgeous looking new wooden floor, that is!
MEMBERSHIPS
At the Stevenage floor sanding and finishing experts we strive always to bring our services as near to perfection as we can get them, and to that end we've become members of several industry representative bodies over the years. These are guarantors of excellence in their various fields and include:
​
· The Federation of Small Businesses
· A Junckers Approved Maintenance Contractor
· The Guild of Master Craftsmen
· The National Wood Flooring Association
​
We also, for additional reassurance, carry £5 million of insurance cover. If you need further peace of mind regarding our qualifications and intentions, check out some independent customer Testimonials to get the word on how others view the Stevenage floor sanding experts.
ALL SIZES UNDERTAKEN
​
We undertake all projects, no matter how small and insignificant or large and intimidating they may see. From ballrooms to reception halls, we handle anything that's thrown at us and approach each job with the same enthusiasm and commitment.
​
It all starts with a free on-site inspection, so contact us to arrange this and also to ask any questions you have about the Stevenage wood floor sanding and renovation team. We're always here to help.
LATEST NEWS, RECOMMENDED ARTICLES & TIPS
Orbital vs. drum sanders - what's the savvy choice for your floors?
If you're committed to the idea of sanding and finishing your hardwood floors, then the first step is to hire your sanding equipment. The best equipment for your task will depend on several factors including the condition of your floor, the finish you want to apply and your level of expertise. One good tip is to always hire dust free floor sanding machinery to significantly reduce the clean up time required between each pass with the sander.

Sanding or screening?

The drum sander uses a sleeve of sandpaper that slides onto the drum which then spins aggressively to cut through the old finish and strip the floor back to the bare wood. You need this level of power if your floors are scratched or you want to get rid of the old finish, fast.

An orbital sander uses a gentler grinding motion. Circular sanding pads oscillate in an orbital motion for a gentler sanding action - ideal if you simply want to apply a coat of polyurethane to protect your floor.

Are you experienced?

Getting a professional finish with a drum sander requires time and patience. You must never set the sander running when in contact with the floor to avoid gouging, and you need to understand the way the grit sequence works so that you don't leave sander swirl on the floor. There's no doubt you can produce a professional finish that looks superb when stained, waxed or varnished, but it takes practice.

The random sanding pattern of the orbital sander is easier to use for a beginner, and you're less likely to cause damage that can't be repaired. But the orbital sander simply doesn't have the grunt of the drum sander which means floor sanding can be a long and drawn out process.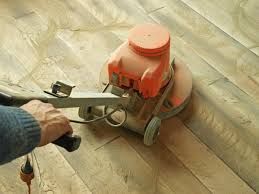 Drum or orbital?

Drum sanding is ideal when your floors are damaged, show signs of cupping or have several layers of old finish that you want to get rid of fast. However, if you find you need to sand against the wood grain, try using an orbital sander to avoid scratching the wood.

Whichever machine is best for your floors, take care to always keep it moving whenever it's in contact with the wood for the best possible results.
For Magnificent Wooden Floors Call 01438 420 159 Now
BEFORE & AFTER